A high volume of claims, combined with all the moving parts related to each one, requires that adjusters have effective processes to stay organized and keep claims on track. More than that, efficient workflows can improve consistency and, in many cases, accuracy. On the carrier level, these reduce overall costs, accelerate claim cycle times, and provide a better customer experience.
These key characteristics help guarantee carriers have efficient processes in place.
Advanced Technology Supports Claims Processes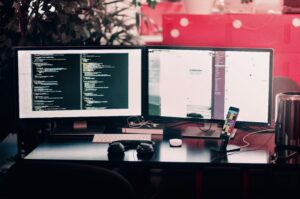 Having innovative, up-to-date technology is one method of improving carrier efficiency. Photo Credit: "Two black computer monitors on a black desk" by Farzad Nazifi / CC 4.0
Outdated technology can delay claims processes. Programs may be slower or documents may be incompatible and unable to be opened. Data should be accessible to everyone who needs it, regardless of location or platform. This reduces the time it takes to contact someone and wait for the information to be sent. Portals for adjusters, policyholders, and carrier partners deliver many of these characteristics by providing a safe method to submit or access claim information anytime it is needed. They can also show where a claim is in the process.
Enhanced technology doesn't all have to be in-house. Integrations with other platforms, such as this one in GuideWire's ClaimCenter, can enable adjusters to securely and easily partner with other service providers to complete tasks such as submit claim assignments, exchange documents, and maintain processes in one place.
Technology should be continuously evaluated to confirm it always meets the needs of everyone involved in the claims process.
Automated Workflows Can Reduce Adjuster Touchpoints
Automated workflows decrease how much an adjuster must be involved in the claims process.
Rule-driven approaches include sending a claim to desktop review services automatically based on a settlement threshold or immediately obtaining a lightning verification report for claims with a cause of loss of lightning or surge. Claims can go further along in the process without an adjuster having to immediately complete a task or be a part of each step.
These automations can help insurance professionals, while others exist that could support the policyholder experience. Automatic replies could inform the insured that a claim has been received or where it is in the process. This is just one way a communication method can improve efficiency.
Enhanced Communication Methods Influence Efficiency
Computer applications, informative websites, and automations can keep policyholders informed without delaying the claims process. Photo Credit: "Black flat Screen Computer Monitor" by Boitumelo Phetla / CC 4.0
Policyholders shouldn't have to call to submit a claim or ask questions about the claims process – and adjusters shouldn't have to spend time answering calls or replying to emails instead of handling claims. Having a comprehensive website with a Frequently Asked Questions page or a chat bot can enable policyholders to get questions answered for themselves. Guides and videos can also provide policyholder and carrier expectations.
As previously mentioned, portals and communication automations keep customers in the loop about the status of their claim and policy without any extra effort.
Understand the Importance of Adjusters and Insurance Professionals
Adjusters have major impacts to overall carrier efficiency. Review how each one completes their job and listen to pain points to find effective solutions. Photo Credit: "Agent" by PublicDomainPictures/ CC BY 4.0
While automations and technology can boost efficiency, the backbone of any company is the people who work there.
Insurance professionals handle all the policyholders' needs, from finding the right policy for them to handling any claims that arise. Consider the pain points for both insurance professionals and policyholders to make the processes easier for all involved. Tackling these concerns may improve the overall process.
Get Help When You Need It
Inefficient processes cost carriers time and money because they risk inconsistency, inaccuracy, and wasted or unnecessary efforts. In addition to improving how things are done internally, it's important to also have an insurance partner with similar efficiency and accuracy values.
CCG IQ, which includes claims solutions companies HVACi and StrikeCheck, leverages the crossroads of insurance expertise and technology innovation to offer comprehensive and efficient residential and commercial claims support. Whether adjusters need a comprehensive damage assessment report or a desktop review service from either of our claim solutions, we ensure adjusters have everything quickly while also providing accurate details and maintaining superior customer service. Learn more about CCG IQ's claim solutions to receive better data, processes, and solutions for carriers.