CCG IQ's Guide to Life in Charlotte: 10 Ideas for Switching Up Your Lunchtime Routine in Uptown Charlotte
Lunch breaks – We all look forward to them. They're the answer to a rumbling stomach when you've only had a Chewy bar for breakfast, and they give just the time you need to recharge after a busy morning.
So, how do you spend your lunch breaks? Maybe you reheat your leftover spaghetti and catch up on a Netflix episode you didn't finish from the night before. Or, perhaps you grab a sandwich from Devon and Blakely and head up to the CCG IQ breakroom to catch up with coworkers from the other side of the office.
Although the CCG IQ breakroom does offer stunning Uptown views and an array of snack choices to put the cherry on top of your meal, there is nothing better than a welcome change of scenery to break up that lunchtime routine.
Here are 10 great ways to spend your lunch break outside the doors of the 33rd floor:
1. 7th St. Market
Can't decide on a lunch spot? Choosing 7th Street Market for your lunch destination will only temporarily cure any indecision, as the market hosts over 10 vendors offering dining options from sushi to pizza to acai bowls. While polishing off the last of your sushi burrito from Bonsai Fusion, you can also pat yourself on the back for supporting local/regional farmers and artisans.
A veggie-packed sushi burrito from Bonsai Fusion
2. Latta Arcade & Brevard Court
If you've finished dining your way through the 7th Market, look no further than the Latta Arcade and Brevard Court, only a four-minute walk from the CCG IQ office. Amid Charlotte's high-rises and construction, this historical retail area is a nugget of Charlotte history, with cobblestone walkways and a charming alley strung with lights. Here you can find nearly any international cuisine your heart desires from Indian, Vietnamese, Japanese, Mediterranean OR your classics, pizza and salad. The Latta Arcade is also home to Charlotte favorite Zablong Peculiar Pizza – known for their distinctly oblong pizza shape and regarded as one of Charlotte's best pizza joints.
If you can't decide between the Southern Charm pie or building your own, go half and half!
3. Romare Bearden Park
Just a quick walk across Church St. from the Latta Arcade and you will find yourself in Charlotte's largest urban park, Romare Bearden Park. On a pleasant 70-something degree day, Romare Bearden Park is the perfect place to turn your packed lunch into a picnic or post up with a book. You can't miss the park's homage to Charlotte's art and culture scene with its sculptures and waterfall features.
Grab a delicious sandwich or salad from nearby Rhino Market & Deli before grabbing a table at Romare Bearden park
4. Founders Hall Atrium
Just a hop and a skip from the office, grab a table in the Founder's Hall Atrium to soak up some sunshine on the days where it's just a little too humid to sit outside. When you finish lunch, you can browse the local boutiques and shops and grab a coffee for an afternoon pick-me-up. The atrium connects to the Bank of America Plaza building for easy walking access and hosts a large seating selection in their courtyard patio for those pleasantly warm days.
The Founders Hall Atrium brings the outdoors inside – listen closely and you can hear birds chirping in the trees!
5. Sweat It Out at Charlotte Athletic Club or Childress Klein YMCA
So maybe you don't like to work out in the mornings or the evenings. If your idea of an afternoon pick-me-up is a sweat session, then a membership at the Charlotte Athletic Club or Childress Klein YMCA will be your perfect lunch companion. With such close proximity to the CCG IQ office, these gyms are convenient ways to get your workout on in a pinch during your lunch break.
Charlotte Athletic Club offers all the amenities you need for a quick midday cardio or weight-lifting session
6. Amelie's French Bakery & Café
Charlotte's classic bakery go-to, Amelie's French Bakery & Café will satiate any sweet tooth, and Amelie's uptown location serves as the perfect spot for an afternoon treat. With wonderfully quirky décor and furniture, Amelie's is the prefect cozy lunch retreat. In the summer, try a macaron ice cream sandwich or go for the popular (and for good reason!) salted caramel brownie.
Max out on everyone's favorite fall flavor with a pumpkin macaron with dairy-free pumpkin ice cream
7. Visit a Food Truck
It can be hard to keep up with Charlotte's bustling food truck scene, but Uptown's street corners will always keep your favorite front and center. Food truck regulars include Chili Man, Papi Queso, and the Halal Cart – just follow your nose and look for the long lines for an affordable, delicious lunch – don't forget your cash!
Falafel anyone? Catch the Halal Food Cart on the northwest corner of Trade and Tryon
8. The Green
For a cozier park scene, head to the Green, a literary themed park located on Tryon across from the Mint Museum. Look for the old neon Ratcliffe's Flowers sign, and you've found your way. Check out the sculptures and artwork after grabbing takeout from nearby Matt's Chicago Dog or an acai bowl from Rico's Acai food truck.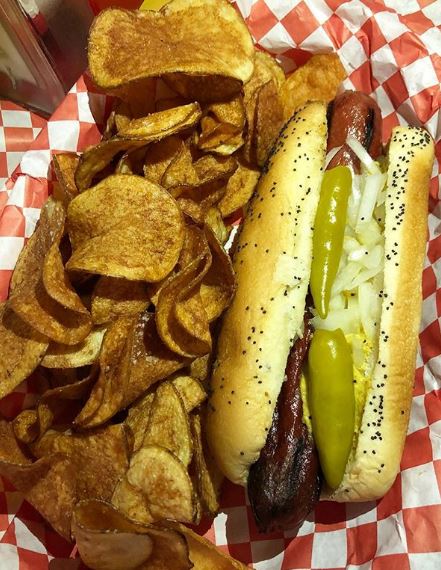 Get your hot dog "Chicago style" – topped with mustard, pickle, relish, onion, tomato, sports peppers and celery alt on a poppy seed bun – that's literally a mouthful!
9. Something Classic Café
Make a pitstop at Something Classic Café the next time you're strolling down north Tryon, a small and delicious café with yes – "classic" – sandwiches and gourmet TV dinners to take home for later. The café opens up to the Hearst Tower courtyard, where you can snag a table for some fresh-air dining.
Something Classic Cafe's hot sandwiches come sealed with a sticker of a classic icon
10. Bank of America Courtyard
If you're not looking to stray too far from the office after picking up your Chick-fil-A, pop outside into our very own Bank of America Plaza Courtyard and soak up the uptown energy in a bright green beach chair.
Fast food favorite Chick-fil-A is a star of the Overstreet Mall – don't forget your Chick-fil-A sauce!
*Special thanks to the CCG Foodie Committee for all of the mouth-watering photos! Make sure to follow them on Instagram for more delicious lunch spot ideas and restaurant recommendations.