Defining a fun work environment at CCG IQ goes far beyond our ping pong tournaments, happy hours, Christmas parties, or participating in any one of our committees. The heart of our energetic work environment lies within our employees, who bring a myriad of personalities, senses of humor, and talents to the table. We caught up with claims coordinator, Sarah Williams, who recalled exactly what it was about CCG IQ that clicked and helped her realize there was a work culture she could thrive in, and also make her own.
Sarah grew up in Blacksburg, VA and attended nearby Radford University where she majored in Criminal Justice and minored in Sociology. Yearning for a bigger city feel, Sarah moved to Charlotte, excited to be near her brother and to live in a thriving, young professional environment. Joining CCG IQ in August 2017, Sarah brought her customer service skills to the table and an affinity for a work environment where she could truly connect with her co-workers and put down roots.
What drew you to CCG IQ?
I found out about CCG IQ through Charlotte Agenda. I think what attracted me to CCG IQ was the relaxed, tight-knit atmosphere. In previous jobs, I felt like there was little interaction between the employees and the executives and managers. We didn't do many company-based activities together to have the opportunity to get to know everybody. I liked the fact that it felt more comfortable and approachable to be able to speak to your managers here. Also, I appreciate the small company feel. When I came in, we were steadily growing and what we do here is so unique compared to other businesses, so it's cool that we kind of have an upper hand in the industry.
What is a typical day in the life as a coordinator?
At 9AM, I first check my email to see if I've been sent any tasks that I can take care of right on the spot. I also review our daily emails to see what the expectations and goals are for the day. Once that's complete, I prioritize my tasks and see who I need to call first depending on the time zone. Throughout the rest of the day, I continue to organize my day by reviewing comments and notes to see what I need to work on next. At 1PM, I go to lunch and love to grab food from restaurants nearby: Uncle Maddio's in the Overstreet Mall is great for pizza and Urban Bricks has great lemonade. Also, the new sushi place downstairs, Sukoshi, is good.
What is the most rewarding part of your job?
I find just being acknowledged for my hard work, getting things accomplished and helping out other employees is rewarding. Being asked to step into different roles and assist with training new employees is also very rewarding because it lets you know that your manager trusts you to relay the information to a newcomer and that they feel comfortable letting you build up a new employee here. This has helped me feel more comfortable developing as a leader.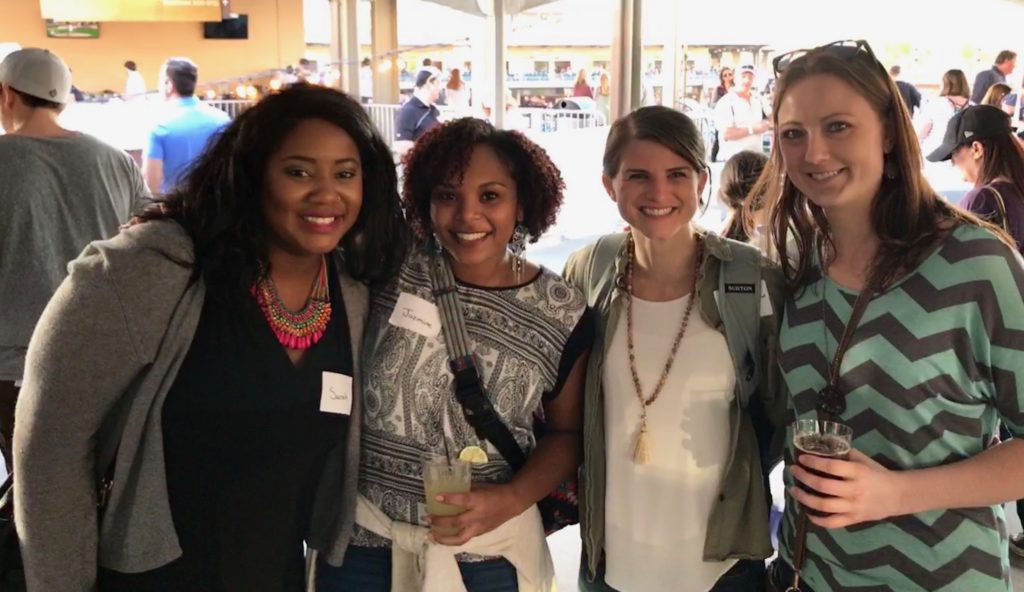 What would you tell someone who is thinking about applying to CCG IQ?
I would tell them to ask themselves what they are looking for in their next role — a work family or just a job? I like to think that you are looking for people that you can communicate with, relate to, and grow with at your next company. I think a lot of people look for a title and don't worry enough about the atmosphere. You can always create a title within your career, but you have to think long-term because you want to be able to have a connection with your company.
What are some career lessons you have learned so far?
Being flexible and patient. Our business is growing, and periodically, we may have to change procedures to meet expectations in order to improve our business practices and attract more customers. I have also learned the importance of opening up to new people and being more direct with making the first introduction. For example, when a new employee starts, I've learned the value in not waiting for the introduction to be made or for a company get-together to say hello.
What three words would you use to describe CCG IQ?
Progressive, efficient, and focused.
Where can we catch you on the weekend?
Cuddling my sweet baby nephew or at a live music event. I love watching and listening to music I've never heard before. For concerts, I love Charlotte Metro Credit Union Amphitheatre — you can buy a lawn seat and still have great seats!
Sarah's Favorites
Favorite Podcast: Up & Vanished (about cold cases!)
Favorite TV Show: Ozark. Seinfeld and Golden Girls are classics that I could watch over and over again.
Desk Must-Have: My Golden Girls coaster.
Favorite Charlotte Spots: Red Ginger Uptown for hibachi and the Whitewater Center for River Jam and great craft beer.