CCG IQ's Guide to Life in Charlotte: 10 Must-Do Activities for Your First Year in The Queen City
Charlotte is a city on the rise — and home to a young, diverse population made up largely of newcomers and people from other areas around the country. For new Charlotteans, there are countless opportunities to get acquainted with the city, and it can be a bit overwhelming to figure out which activities to try first.
To jump-start your adventures in the Queen City, we've compiled a list of the top activities and destinations to check out during your first year.
Unleash your inner sports fan
Cheer on the Panthers at Bank of America Stadium
When game day rolls around, put on your blue and silver and join thousands of other fans in rooting for the Panthers at Bank of America Stadium. With the arena's convenient location in uptown Charlotte, there are plenty of opportunities to check out nearby restaurants and breweries before kickoff. Be ready to get loud and will the team to #KeepPounding to another win.
Spend a summer night at BB&T Ballpark
Nothing beats watching baseball on a summer night. The Charlotte Knights are the Triple-A affiliate of the Chicago White Sox and always put on an exciting game at BB&T Ballpark. Grab your friends and take in America's pastime under the lights — and don't forget to admire the picturesque view of the city's skyline.
Visit the NASCAR Hall of Fame or Watch a Race at Charlotte Motor Speedway
The NASCAR Hall of Fame is a must-see attraction for race fans (and anyone curious about stock car auto racing). The high-tech complex, which is owned by the city of Charlotte, has over 40,000 feet of exhibit space chronicling the history and heritage of the sport, as well as a state-of-the-art theater. To complete the experience, follow up with a visit to the Charlotte Motor Speedway and take in all the sights and sounds of NASCAR firsthand.
Photo Credit: "NASCAR Hall of Fame" by James Willamor / CC BY 2.0
Head to the Spectrum Center for a Hornets game
Get in on the "Buzz City" fandom and wear your teal and purple with pride. The Hornets' home court at the Spectrum Center is easily accessible via the Lynx light rail, and just a short walk from our office (super convenient for a weeknight game). Plus, all the attractions that uptown Charlotte has to offer are just steps away for pre- and post-game celebrations. Fun fact: NBA legend Michael Jordan is the team's majority owner.
Photo Credit: "Super Huge Flip" by Nick McOwen / Used with Permission
Engage in the city's vibrant arts and culture scene
Take in a show at the Blumenthal Performing Arts Center
Theater fans rejoice! The Blumenthal Performing Arts Center, located in the heart of Charlotte, is a cultural staple in the community. With six stages, the facility is home to a host of comedy, dance, and music events. Several Broadway hits are on this year's events calendar, including The Color Purple, The Lion King, and Hamilton.
Photo Credit: "Blumenthal Performing Arts Center in Charlotte, NC" by Broadway Tour / CC BY 2.0
Expand your knowledge at uptown Charlotte museums
There are several museums within walking distance of our office that offer boundless opportunities for learning and exploration. History buffs can visit the Levine Museum of the New South and dive into the stories of the people and places of Charlotte since the Civil War, while art and design enthusiasts can check out pieces from all over the world on display at the Mint Museum and the Bechtler Museum of Modern Art. For those more interested in science, Discovery Place offers a 21+ event on the third Friday of every month called "Science on the Rocks," which features themed-activities, drinks, and music.
Photo Credit: "Bechtler Museum of Modern Art — in Charlotte, North Carolina" photo by Prasit Frazee / CC BY 3.0
Explore outdoor attractions with friends
Spend a day exploring the U.S. National Whitewater Center
The great outdoors is never more than a stone's throw away with Charlotte's U.S. National Whitewater Center. The 1,300-acre facility offers a range of activities for people of all skills levels, including whitewater rafting, kayaking, stand-up paddle boarding, rock climbing, hiking, trail running, and mountain biking. The center also puts on live musical performances from May to September through its River Jam series.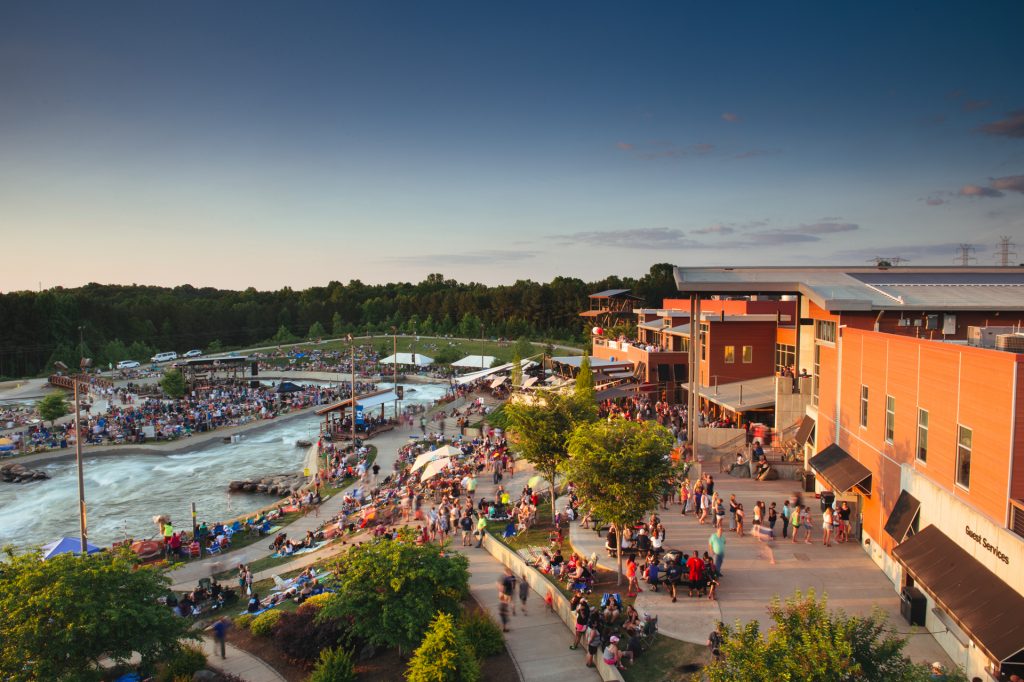 Photo Credit: Photo by the U.S. National Whitewater Center / CC BY 4.0
Relax on Lake Norman
Round up your crew and take advantage of North Carolina's gorgeous summer weather on Lake Norman. The largest man-made lake in the Carolinas is just 15 miles north of Charlotte and always bustling with activity during the warmer months. Whether you like cruising around on a boat or kayaking with friends, there are countless ways to enjoy the water and catch some rays.
Photo Credit: "Aerial View of the Peninsula Yacht Club in Cornelius on Lake Norman, North Carolina" photo by LakeNormanMike / CC BY 4.0
Get your thrills at Carowinds
From thrill rides to special events, there's something for everyone at Carowinds, the premier theme park of the Carolinas. The park features 13 roller coasters, including the popular Fury 325, as well as the Carolina Harbor waterpark. Be sure to add the park's holiday-themed events to your calendar, including SCarowinds and WinterFest.
Photo Credit: "Entry area for Fury 325 Giga-coaster at Carowinds" photo by Ronwen1 / CC BY 4.0
Catch a concert at the PNC Music Pavilion
If you're a concert-goer, you don't have travel far for a great outdoor venue. The PNC Music Pavilion, located in Charlotte's University City neighborhood, is a popular location for seeing some of the biggest names on tour. Past acts have included Jay-Z, Metallica, and Tim McGraw, among many other chart-topping artists.
Photo Credit: "Coldplay Concert" by PhotosByDavid / CC BY 2.0